Five steps to increase website lead form conversions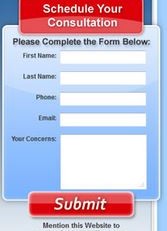 In this article, I will share the five steps I consistently apply to increase website lead form conversions for our dealers. 
Website lead forms are a lot like dating. If you ask for too much information on a first date, it might end earlier than you think.  If you request too much customer info, your lead submissions and bounce rate might suffer.  But what is the magic bullet for perfect lead forms?  Sadly, there is none. We provide website visitors so much information these days that lead form submissions are on the decline.  Generating high quality lead form conversions has become a challenge for most businesses.  The secret is to get the consumer to provide lead information in exchange for a benefit.  The first question in people's mind is "what's in it for me."  Visitors need an incentive to fill out the form, just like we provide incentives for them to buy cars.
Step 1.  Location, Location, Location.  Just like in the restaurant business, location of a lead submission form can exponentially increase conversions. The best placement for high converting forms is at the TOP of the landing page.  This is especially impactful for mobile devices, as forms tend to become distorted on the side during sizing.  The WORST place for a form is at the bottom.  Too many web pages are cluttered with information, preventing a prospect from scrolling all the way down to the bottom to fill out. Also, make sure your lead form is on EVERY landing page of your website.  You cannot control what page will inspire your lead to fill out the form.
Step 2.   Collecting Customer Data. All data is not created equal.  Basic contact info is the reasonable minimum you should expect. There is also tremendous insight to the information you receive on a lead form. Each form submission can bring not only the customer data, but synchronizing your forms with analytics can provide insight into referral pages, browser behavior and intent. Setting goals for each lead form should help you define your required fields.  For example, a car dealer's service forms should always ask for mileage, so you could recommend services.  A new car lead forms should always questions like "have you served in the military?" or "are you a recent college grad" because you could qualify for additional incentives.
Step 3.  Aesthetics and Language.  Use "power" words and engaging, personalized text on buttons, like "get your offer now." Provide additional incentives or special pricing in exchange for contact information.  Colors are important for marketing in general. They carry various meanings and induce feelings.  Red can imply urgency or excitement, yellow is associated with happiness or optimism, and Blue implies trust or dependability.  You don't want your website to resemble a rainbow, so you'll need to choose a primary color palette and stick with it.  Many brands and demographics can direct the right color combination. Purple is often aligned with sophistication (Mercedes & BMW), whereas Brown is aligned with ruggedness (Jeep).
Step 4.  Keep forms at a reasonable length.  Although I highly recommend A/B testing, the sweet spot for the best converting forms are no more than 5 fields. It's also recommended that you should not require a phone number from your prospects.  You could see an increase in conversions, as high as 15%, by removing the *required phone field.  I always recommend you let the consumer control the form.  Ask them their "preferred" method of contact and let them fill out that field. "Conditional Logic" forms can populate a field based on the response to a previous field.
Step 5.  Use Progressive Profiling.  This is a method of gradually gaining lead intelligence. When a visitor fills out a form on a landing page for the first time, they may be only required to answer a few questions; first name, last name, email address.  The next time the same visitor fills out a form, they will be presented with a new set of questions gaining additional intelligence; time frame to purchase, lease vs. buy, trade in?  You can also automate a marketing response asking these additional questions.
And then a few extra items to increase conversions would include; Setting the cursor to jump to the next field, use page redirects to keep people engaged by redirecting them to another point of interest, incorporate trust seals to ensure privacy protection, connect straight to prospect's calendar for appointment forms, retarget consumers who abandon forms and finally, make sure your forms are responsive to mobile.