Learn How our client Sold 1,000 cars in one month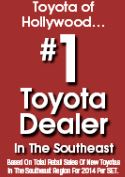 Is it "rocket science" that helped our client, a South Florida Toyota dealer, sell 1,000 cars in a single month (Sept. 2015).  I think not.  Considering you don't even need a high school diploma to sell cars in most dealerships, it's a combination of FIVE factors that lead to that kind of success. (Disclaimer: This is not an overnight success story)
1.  Leadership. Notice I did not say management.  Daily management acumen is easily learned, but true leadership is what takes a dealer from good to great.  The GM, Steve Ostrovsky, is one of the most veteran leaders in the industry today.  He strategically plans for his success and doesn't "toss the entire playbook" if one single play fails. 
2. A Balanced Attack. A dealer cannot succeed on any one single advertising method.  The plan must be well balanced between traditional and digital, that supports a unified message across all channels. There also needs to be an engaging offer that is relevant to the in-market shopper.
3. A kick-@$$ Advertising Team.  Ok, here is where I toot our horn.  It takes a dedicated team of experienced ad executives to create and execute a successful campaign.  The MSA team works tirelessly to keep Toyota of Hollywood in the #1 spot in SET, TWO YEARS IN A ROW (based on total sales 2014 and 2105).
4. Understanding DIGITAL.  Steve and his team at TOH speaks digital advertising. All advertising messages inspire online research. By utilizing the latest technology to deliver the right message, to the right customer at the right time, TOH successfully influences consumers at the height of their online journey.
5. Relevant Messaging.  Today's car shoppers are more educated than ever.  The excess of online information has given the advantage to the consumer. By creating a valuable and relevant message, TOH is consistently part of the consideration set for their brand AND their competitors.
Not every dealer can eclipse 1,000 sales per month, but let us show you how to increase your sales with a PROVEN STRATEGY! 
Call or Email me today for a COMPLIMENTARY evaluation of your current strategy. 
What have you got to lose?
Larry Barditch, VP of Digital Strategy & Innovation.  305.442.7272 or 305.801.9677.
Larry@MSAadvertising.com